Hi everyone ! It's Thursday 'Krafty' Inspiration again.
If you don't have plan this weekend, you might want to be ready to learn Crocodile stitch.  It's a beautiful stitch.  It's like a ruffle without the wavy-look.  To be precise, it's like a fish scale.  I don't know why it's called Crocodile stitch instead of Fish scale stitch.  But that's not important to discuss here.
Let's get started…
I came across this cool looking necklace / neck warmer that I am dying to make by Making Stuff Grumbles.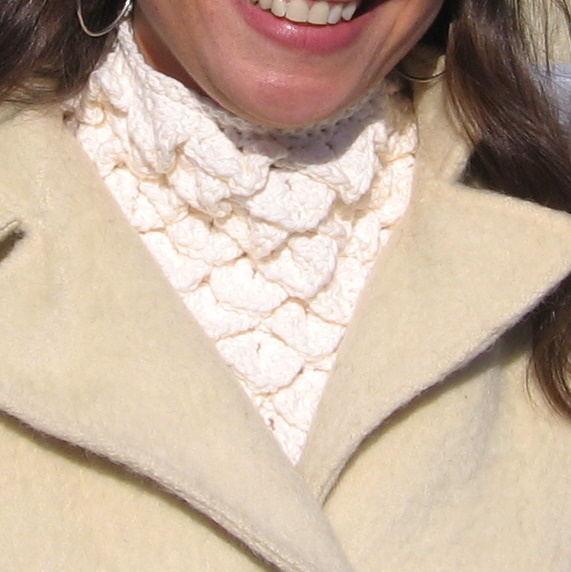 This is not a full round of scarf, instead it's a necklace like neck warmer.   Do you have better idea now?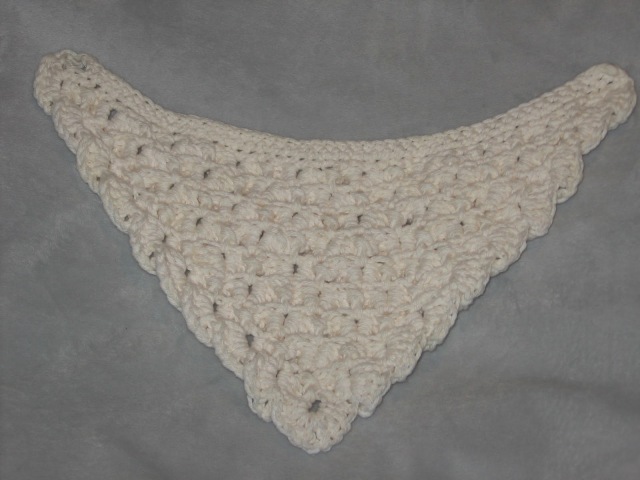 Making Stuff Grumbles crochet pattern is as follow:
Hooks: I did these two with a size J (6.00mm) hook, but recommend a smaller one for people who crochet loosely or if you are using a lighter weight yarn, in order to maintain the crisp appearance of the scales.
Yarn: worsted yarn
Row 1: Ch 5, then ss to first chain to form a loop. This is your first base row.
Row 2: Ch 3 more and turn. This counts as your first dc. Dc 4 more through the loop, ch 1, dc 5 up the other side of the loop to form your first scale.
Row 3: Ch 3, turn, dc through edge of scale at the base of the ch 3. Ch 1, dc through hole in the middle of the scale, ch 1, two dc in other edge of scale. This is your second base row.
Row 4: In this row, each pair of dc will get a scale, while the unpaired dc will get a ss to anchor the scales. Start with ch 3, then dc 4 times down one side of the pair of dc at the end of the previous row. Ch 1, then turn to dc 5 up the other half of the pair. Ss to unpaired dc, then dc 5 down the first half of the next pair. Ch 1, then dc 5 up other half of the pair. Continue to the last pair of dc.
Odd rows following should be the same as Row 3, until it is long enough to finish.
Even rows following should be the same as Row 4, until it is long enough to finish.
When it is long enough to fit around the wearer's neck comfortably with about 1″ of overlap (Men should know their collar size, women will normally have sizes up to 15 inches), stop at the end of an even row. Sc across the top (the first row may look a little uneven, depending on the yarn, do the best you can), turn, sc across. For the third row, 2 sc, ch 2 or 3, depending on the size of your button, then sk the same number of stitches before sc the rest of the way across. Finish with a fourth row of sc. The stitch counts will vary for these rows, based on the number of scales. Finish off and weave in the ends.
Sew the button onto the end of the single crochet band opposite the buttonhole.
END of pattern
Once you master in this stitch and want to take it to the next step, this Etsy Croco-stitch queen: Bonita pattern, sells awesome boots, neck warmer, hats, gloves etc crochet patterns.   Check out her works, I guarantee you'll be amazed.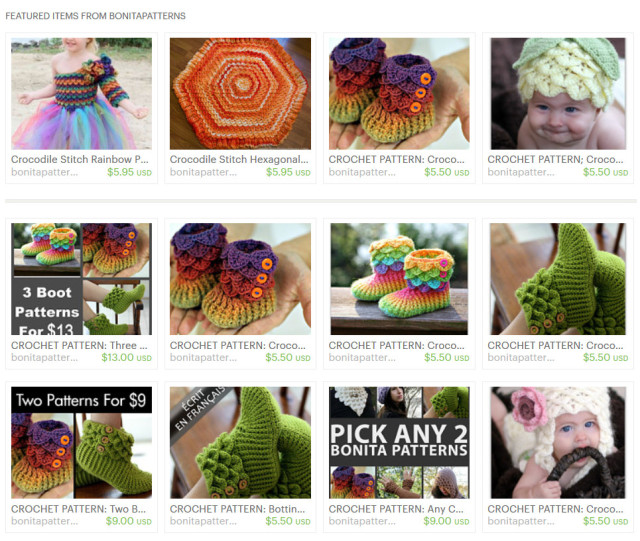 Search this site
ETSY shop
Search Amazon
Click HERE
Credits
It is my intention to give 'credit' to whoever the picture belongs to, but Ooops does happen. If you find pictures that belong to you without 'noted' source, please let me know.