I can't wait to finish my crochet Poppy the Troll hat.  Poppy in the Trolls film is the one who has flamingo pink skin and has sparkles on both cheeks and wears a blue shirt with a green hairband with butterflies on her pink hair.   I haven't seen the movie yet but I fell in love with Poppy.  She is such a cutie.
When I came across Poppy's hat crochet pattern on Pinterest, I knew I gotta make it.
Thanks to Just Crafting Around for the pattern.  She made the pattern from 6 months old all the way to adult size.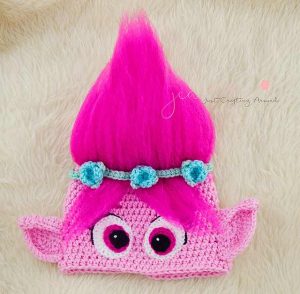 Aren't this hat adorable ?
I am sure this hat will put a smile on a little girl in your life.  If you like to make one, go to Just Crafting Around for the step by step instructions.
Happy Crochet-ing !
Search this site
ETSY shop
Search Amazon
Click HERE
Credits
It is my intention to give 'credit' to whoever the picture belongs to, but Ooops does happen. If you find pictures that belong to you without 'noted' source, please let me know.