A friend of mine, Evelyn said that she is into cute bento lately and making it as side business for kids party.  She was the inspiration behind my post today.
A little introduction about Bento.  Bento is a home-packaged meal common in Japanese cuisine.  Japanese are so creative when it comes to packaging.  They serve food neatly and artistic-ly; sushi is one of the example.
My bento was my daughter's birthday.  I saw similar design on newspaper and thought it was a good idea for my daughter 1st birthday party.  We celebrated at the orphanage home and I thought they deserved a nice and cute meal.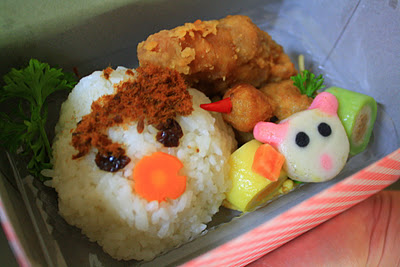 Rice, eyes from raisins, eyebrows from dried pork meat, carrot nose, Japanese fishcake, fried chicken and 2 potato balls in a shape of chick.
Here are some pictures of Evelyn's bento creations.  Thanks for your inspiration Ev.

Aren't these cute?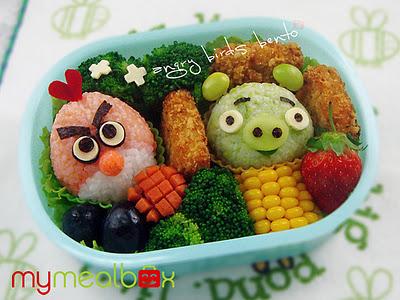 Search this site
ETSY shop
Search Amazon
Click HERE
Credits
It is my intention to give 'credit' to whoever the picture belongs to, but Ooops does happen. If you find pictures that belong to you without 'noted' source, please let me know.