Can I ever have celebrities or multi-billion dollar real estate pioneer wedding cake on my wedding?  Maybe if I hit lottery tonight.  Or else, I just have to find an alternative to have the celebrity 'look alike' cake.  Picture below is my all time favorite cake.  I love the simplicity yet elegance it has.  It is a Donald Trump and Melania wedding cake.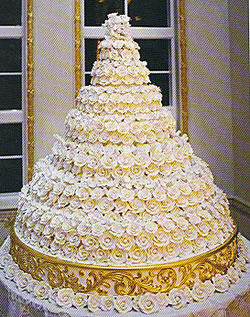 Donald Trump's wedding cake
Here is Donald Trump's Wedding Cake fun fact:
"The orange Grand Marnier chiffon wedding cake was five-foot-high, seven-tiered, 200 pounds, 32 inches in diameter, covered with approximately 3,000 white icing roses, and filled with Grand Marnier butter cream. It did not have the traditional bride and groom on top. Wedding guests each received an individual cake about the size of a cupcake. Looking like the top tier, the individual cakes were chocolate sponge cakes, filled with chocolate truffle, and decorated with one rose on top."
WOW.  It probably takes me 40 hours to make 3000 good quality icing roses.  And another 2 full days transferring the roses onto the cake.  How much does the cake cost? Easily $ 4 digits $.  Now back to the first question, Can I ever have this kind of cake on my wedding?
Worry not my fella !  Check out this Preston Bailey DIY Inspired cake.
Rosette swirl is much faster to make and in a bunch  it resembles roses, don't you agree?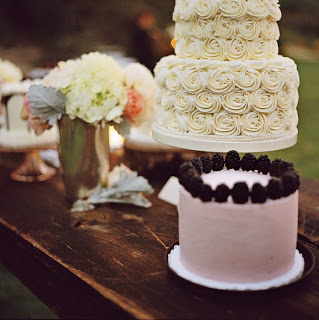 Preston Bailey DIY cake
See how other creative baker use the swirls.  I would've never thought of using these swirls on little girls cake, but Lorie did it just lovely.
This one is nice as well.  I love the silver pearl the baker put on each rosette.
Another extravagant cake,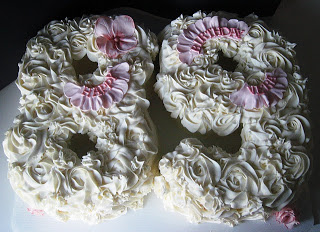 Credit to: Heavenlybitecakes
Want to know how to create the Rosette cake? Click
HERE
.
Search this site
ETSY shop
Search Amazon
Click HERE
Credits
It is my intention to give 'credit' to whoever the picture belongs to, but Ooops does happen. If you find pictures that belong to you without 'noted' source, please let me know.