I was thrilled when I saw picture of these cupcakes… They are so cute.  Just wondering when will I be able to make these.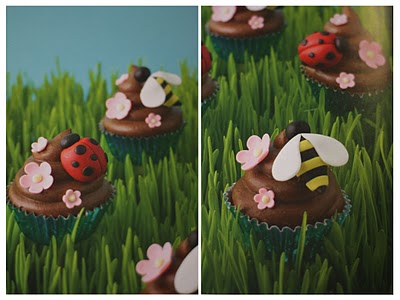 Look at the bees and lady beetles.  They are so cute.
Not too long, these cupcakes have stolen someone heart too.  Yes I said.
These pages are from the book Confetti for Kids by Elisa Strauss.  Thanks for my sister in law who lend me this book, or else I would be crazy designing cupcakes for Florencia…(which I had for the past few weeks).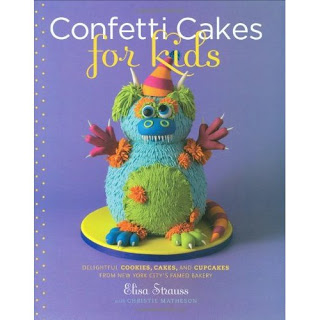 page 115: Mini garden cupcakes
The book calls for any flavor cupcakes, Milk Chocolate Ganache and fondant to make flowers, bumblebees and lady beetles.  (I am being technical here… the right name for the bug with red wings and black dots is Lady beetle not  Ladybugs.  Ask my Insects teacher :))
Anyway, here is the recipe for the Milk Chocolate Ganache:
16 ounces milk chocolate – chopped
1/2 Cup plus 3 T heavy cream
Directions:
Heat the heavy cream in suacepan over medium-high heat.  Stir frequently until it starts to boil.
Remove pan from the heat and pour over the chopped milk chocolate.
Let the mixture stand for 2-3 minutes.
Stir the mixture with a whisk until the chocolate is completely melted and there are no noticeable traces of cream.
Allow mixture to sit at room temperature and thicken.
Storing: When ganache is cool, store it in an airtight container.
Lifespan: At room temperature – 2 days
In the refrigerator: up to 10 days
Tip to thaw refrigerated ganache: Heat in a double broiler over low heat.
Now this is the TWIST I made.  Instead of making the bumblebees and lady bettles with fondant, I made them with M&M.;  (Luckily, the white M&Ms; are available in the Valentine package so I don't have to buy a box of whites only).
To make the bumble bee you'll need:
2 white M&Ms;
1 yellow peanut butter flavor – the size is bigger than regular M&M;
black edible pen
candy coating – I use red so you can see how I attach the body to the wings.  Trust me I tried different way and this is the easiest.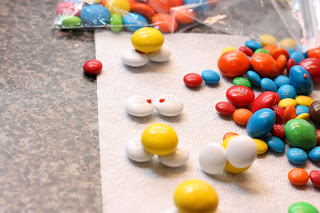 Put the white M&Ms; down with the letter M facing up.  Place a drop of candy coating.  Attach the yellow M&M; with the letter M facing up.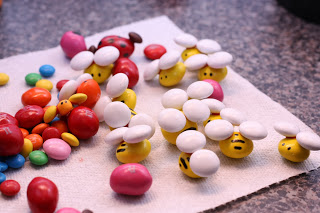 Draw couple stripes on the bee body and eyes and you are DONE.
Now for the Lady Beetles, I used:
1 brown mini M&M; for the head
1 red M&M; – I am not sure which flavor is this shape M&M;, but I will find out soon.  You can also use a regular size M&M.;
black edible pen
candy coating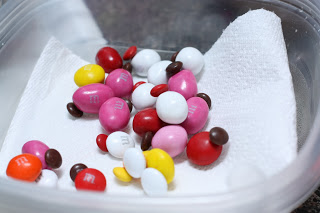 Drop a small dot candy coating on the body, then attach the head.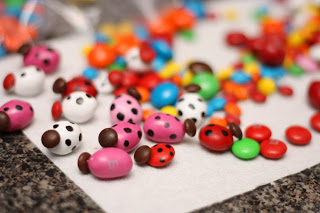 Finish with drawing small dots on the body.  I also use pink and white for the body.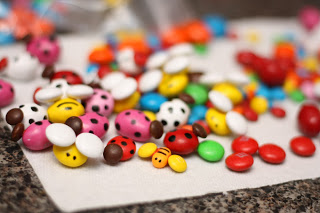 See how cute the bees and the bugs 😛
The birthday is not til next week so come back for the finish cupcakes.  I am still thinking how to TWIST the flowers without using fondant.  I can use pink and yellow M&M; but it's too much work to attached them together.  We'll see what I come up with between now and then.
Search this site
ETSY shop
Search Amazon
Click HERE
Credits
It is my intention to give 'credit' to whoever the picture belongs to, but Ooops does happen. If you find pictures that belong to you without 'noted' source, please let me know.