Hello everyone !  I want to share 'Krafty' Inspiration today: Gift Card-igans
This card holders, so called Gift Card-igans by Simply Notable are so beautiful, perfect for upcoming holidays' gift.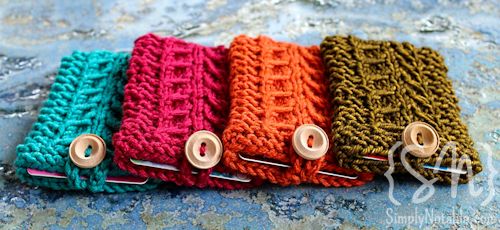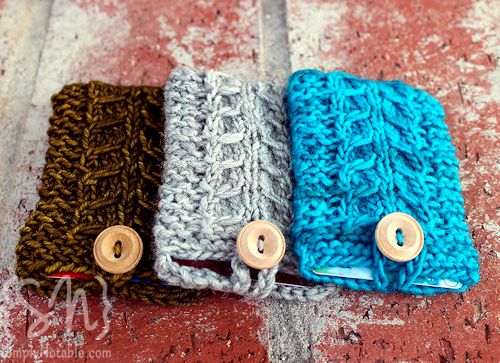 Materials
Small Amount Worsted Weight Yarn
Size US 6 (4 mm) needles
Button
Darning Needle
Crochet Hook
Abbreviations:
C4L: Put 1 stitch on cable needle and hold to front. Knit next 3 stitches. Knit stitch on cable needle
C4R: Put 3 stitches on cable needle and hold to back. Knit next stitch. Knit 3 stitches on cable needle
 Instructions:
Cast On 15 stitches using long tail cast on
Knit 3 rows
Begin Pattern:
Row 1: K2, P1, K9, P1, K2
Row 2: K3, P9, K3
Row 3: K2, P1, C4L, K1, C4R, P1, K2
Row 4: K3, P9, K3
Row 5: K2, P1, K9, P1, K2
Row 6: K3, P9, K3
Repeat Rows 3 through 6, 11 more times
Repeat Rows 3 and 4
Knit 3 rows.
Cast off knitwise.
Finishing:
Seam together at sides with wrong sides together.
Make Loop Closure: At middle back, attach yarn by pulling a loop from inside to outside, leaving free end of yarn inside. Chain 8. Attach to center back with a slip stitch. Tie free ends together in a knot at inside inner edge.Weave in ends.
Sew button to center of front garter stitch band.
For someone like me who like passing off gift card for every occasions, this gift card cozy make it to my 'List to Create'.
Thanks again Simply Notable for sharing the pattern.
Search this site
ETSY shop
Search Amazon
Click HERE
Credits
It is my intention to give 'credit' to whoever the picture belongs to, but Ooops does happen. If you find pictures that belong to you without 'noted' source, please let me know.