This pancake is unusual.  It's the low calorie version of Terang Bulan aka Martabak Manis.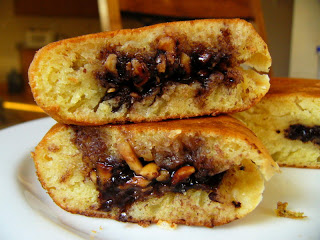 My favorite: Pancake with chocolate and cheese.
The complete toppings for this pancake are: chocolate, shredded cheese, sesame seeds and peanuts.  This is also a rich dessert, very high in calorie if you use the right and complete ingredients.  The best person to make this is my mother in law – the queen of Martabak Manis.  Sorry she has not inherit her recipe to me, plus I am not allowed to share it here coz, it's her source of living.
Anyway, here's my recipe:
1-1/2 C hot cake mix flour
1/2 C flour
3/4 C granulated sugar
2 eggs
1 egg  yolk
1-1/2 C milk or coconut milk
1/4 t baking soda dissolved in 1 T water
1/4 t salt
Directions:
Mix two flours.
Beat egg, sugar and salt with whisk.
Add flours spoon by spoon while beating.
Add baking soda.
Sit dough for 1.5 hours.
Pour dough onto hot pan just like making pancake.  Don't turn, cook on one side only.
Tips:
Sprinkle some sugar when the pancake is almost cooked.
Slap some butter on the pancake.
Add toppings on half side of the pancake.  Fold pancake, cut and eat.
Search this site
ETSY shop
Search Amazon
Click HERE
Credits
It is my intention to give 'credit' to whoever the picture belongs to, but Ooops does happen. If you find pictures that belong to you without 'noted' source, please let me know.