A woman, a cake and MADE IN AMERICA.  Meet Kim Nelson, the owner of Daisy Cakes: all made from scratch and in America, even down to the packaging.   She scored during her appearance on "Shark Tank".  After her Shark Tank appearance, she has sold 25,000 cakes in every state, hired 240 bakers who bake 5000 cakes per day.  Read the complete story HERE.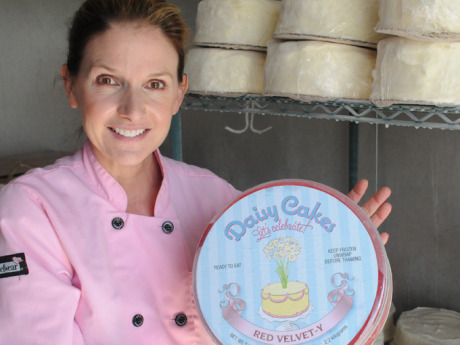 Meanwhile you can try baking your own Southern Pound Cake.  Recipe courtesy by Geraldine Adams and Kim Nelson.

Ingredients:
1 cup butter, room temperature
2 cups sugar
4 eggs
3½ cups cake flour
1 teaspoon salt
1 teaspoon baking powder
½ teaspoon baking soda
2 teaspoons vanilla extract
1 cup buttermilk
Sauce:
1 cup sugar
¼ cup water
½ cup butter
2 teaspoons vanilla extract
Directions:
Preheat oven to 325 degrees. Thoroughly grease and flour a 10-inch tube pan. In mixing bowl, cream butter. Add sugar and continue beating until light and fluffy. Add eggs, one at a time, beating well after each. Scrape down your mixing bowl. Add sifted dry ingredients along with 1 cup buttermilk. Blend at low speed until combined. Scrape down bowl and mix for 2 minutes. Pour batter into prepared pan. Bake at 325 degrees 50-55 minutes or until toothpick comes out clean with just a few crumbs on it. Do not overbake! When the cake is almost ready to come out of the oven, prepare the butter sauce. Combine the sugar, water and butter. Bring to a low boil and stir until sugar is completely dissolved. Remove from heat and stir in vanilla extract. Do not allow the sauce to cool. It should be hot when poured over the cake. After removing the cake from the oven, prick the top of the cake with a long, wooden skewer. Pour the warm sauce over the cake while the cake is still in the tube pan. Allow the cake to cool for 20 minutes and remove from the pan. This allows the sauce to seep into the cake.
Search this site
ETSY shop
Search Amazon
Click HERE
Credits
It is my intention to give 'credit' to whoever the picture belongs to, but Ooops does happen. If you find pictures that belong to you without 'noted' source, please let me know.