I have been MIA (missing in action) from blogging for awhile.  I have made so many goodies lately from wedding to Christmas themes.
I am presenting to you the non-Christmas goodies.
Please welcome ladies and gentlemen… the Lovely Newly Wed.  Tada … drum roll, drum roll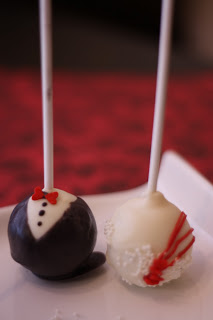 Don't you think they look good together?.  I love the bride's wedding dress.  This was actually the dress I wanted to wear on my wedding day.  I saw this dress when I was in college worn by Kate Hudson on the red carpet.  The dress was all red, strapless and had one flower strap on one side.
Now that I am looking at it, I have another idea for the groom tux as well.  Other than dipping the sides into chocolate.  I would make diagonal lines on both sides in chocolate and still put the tux.  The bride's dress can be just diagonal lines in white.  Hmmmm I gotta try this, but for now enjoy more picture of them.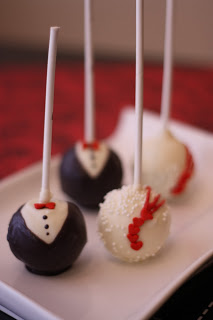 These cake-pops are perfect for wedding, anniversary or just any fancy affairs.  How about giving these for your prom date? or Valentine's?
Search this site
ETSY shop
Search Amazon
Click HERE
Credits
It is my intention to give 'credit' to whoever the picture belongs to, but Ooops does happen. If you find pictures that belong to you without 'noted' source, please let me know.