Hello there !  My whole day was spent outside the house, from dropping off Savannah to school, watching Hot Air balloons launching at her school, TJ Maxx and Home Goods shopping, and putting the little princess to bed.  Now it's my time.
So many holidays around the corner,  I try not to over-consumed myself instead to enjoy the holidays itself.
I came across these easy and pretty projects that will spruce up your home without stealing your entire afternoon.
Here are my top 7 picks: Pretty Fall Craft in less than an hour
1. Succulent Napkin Rings
:: Source :: Better Homes and Gardens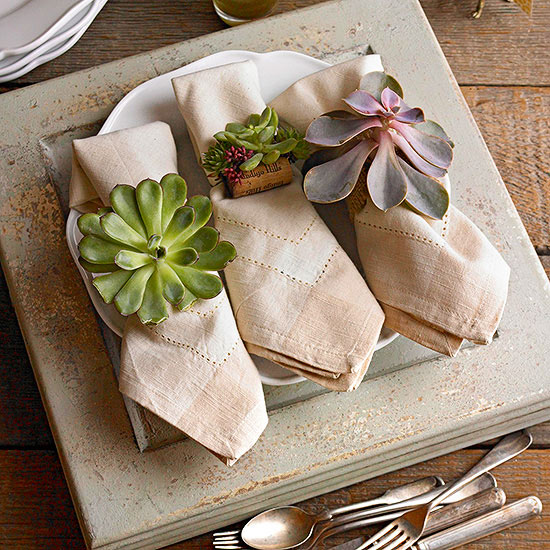 Bring the outdoors into your home with our natural fall-inspired napkin rings.
Simply cut various succulents with a short stem, poke florists wire into the stem, and wrap with florists tape to secure.
Push the wrapped wire through a hole in the center of a burlap strip, loop the wire so it can hold the napkin, and hot-glue the burlap to cover the wire.
If you use artificial succulents, you can glue it on simple napkin ring.  Add accent as you wish.
2. Canning Ring Pumpkin
:: Source :: Better Homes and Gardens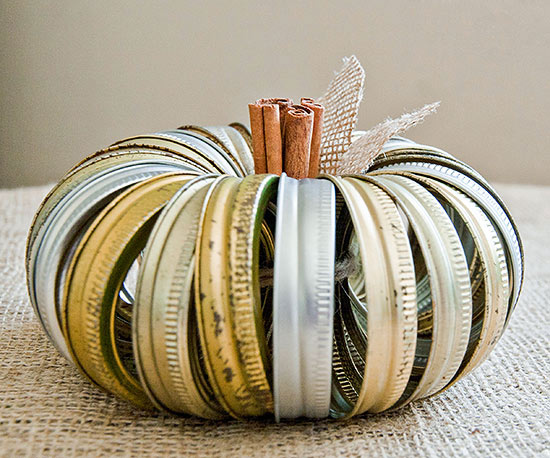 Need a classy addition to a fall tabletop vignette? This simple DIY pumpkin fills the bill beautifully.
Just bundle silver and gold canning jar rings into a miniature pumpkin, tying the rings snugly with string. Then, snip burlap leaves and tuck them around a cinnamon-stick stem for a pretty, subtly fragrant finish.
Buy new canning rings for this project or use old ones from your canning stash — a little tarnish just adds charm!  You probably need 2-3 dozens of canning jar rings to get a nice pumpkin looks.
3. Display Candles in a Fresh Way
:: Source :: Better Homes and Gardens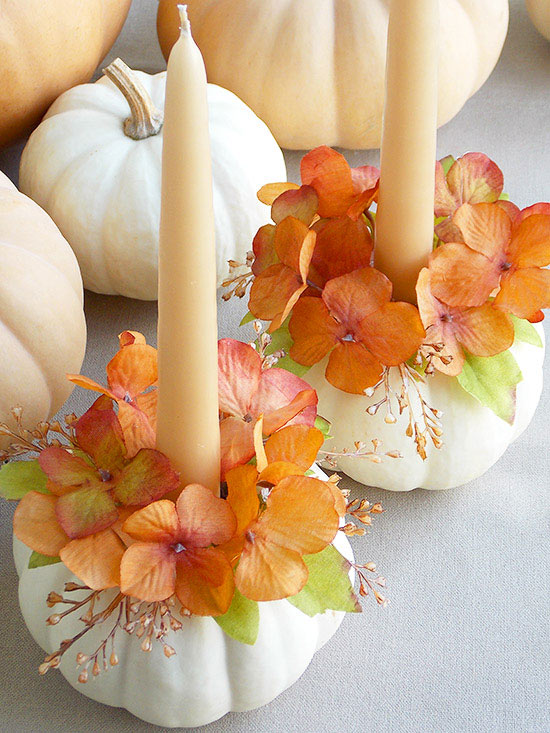 These picture-perfect tapered candleholders set the scene for one beautiful table spread. Want to make sure your candleholders last beyond November? Hot-glue silk flowers to faux pumpkins instead of opting for the real deal, and you'll be enjoying this DIYcenterpiece project for years to come.
(image credit: Maria Sabella)
4. Give Thanks Cork board
:: Source :: Better Homes and Gardens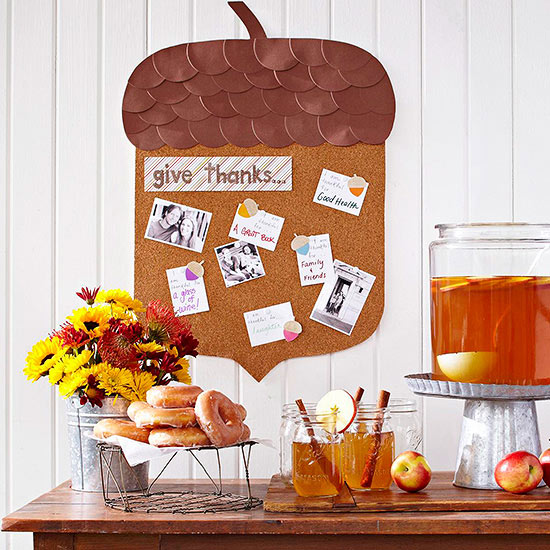 Get ready to celebrate fall with an acorn-shape corkboard that inspires you to give thanks. Simply cut an acorn shape from purchased corkboard and use punched cardstock cirlcles to create the cap. Hang it in your kitchen, at a party, or save it for Thanksgiving.
5. Acorn Treats
:: Source :: Better Homes and Gardens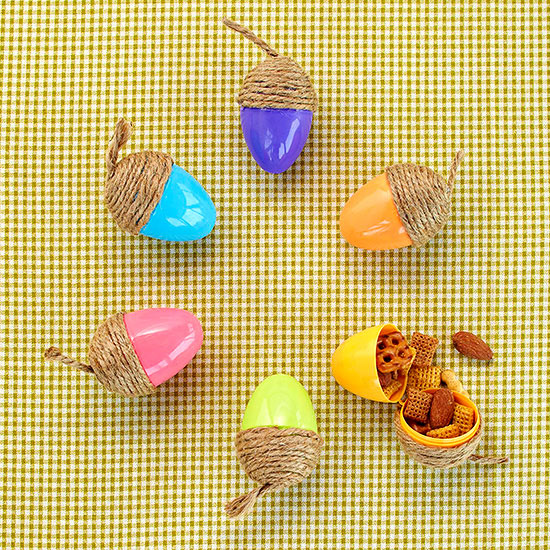 Go nuts! Make adorable acorn treat holders this fall. Not only are they great for sending in school lunches, but the easy fall craft is a thoughtful party favor or decoration, too. To make, simply hot-glue twine around the wide end of a plastic Easter egg, then fill with snacks, candy, or other fun treats.
6. Yarn Pumpkins
:: Source :: Design Improvised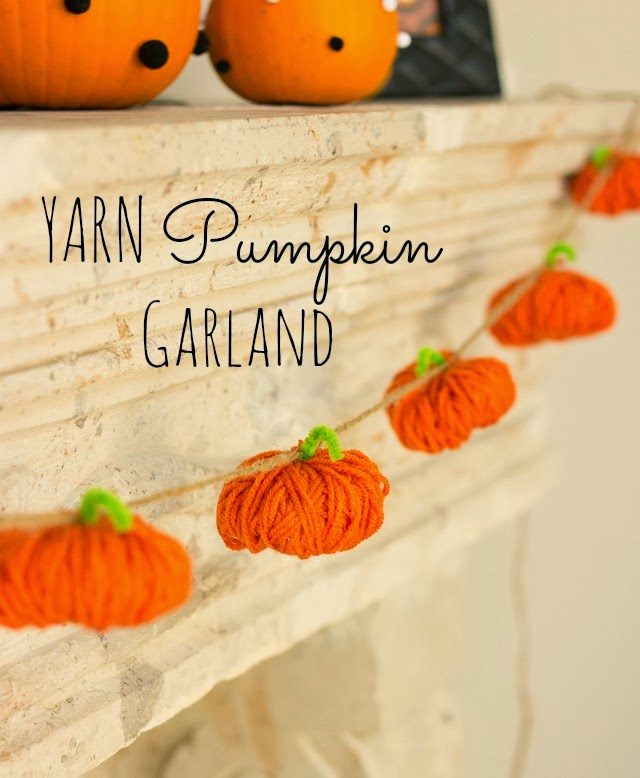 You won't believe how easy it is to make this yarn pumpkin.  It's similar technique like making pom poms.
1. Wrap yarn around four fingers about 120 times or so.  2. Cut a ~10 inch piece of yarn and stick it between your fingers to wrap it around the big yarn loop.   3. Line up the piece of yarn in the middle of the yarn loop, and tie – pulling taut and wrapping around the backside as well.  4. You now have your basic pumpkin shape. Cut a 2 inch piece of pipe cleaner and tie to the pumpkin using the two loose strands of yarn from Step 3. Don't trim the strands yet!  5. Wrap the pipe cleaner around itself to form the stem.  6. Pretty up your pumpkin by tucking in any loose loops.   7. Once again using the loose strings on the pumpkin to tie them around the twine.  Continue making pumpkins until you have enough for your garland!
For pictorials, go to Design Improvised.   And don't forget to check out Haeley's home decor craft.  I adore her photographs.
 7. Halloween Wreath
:: Source :: Design Improvised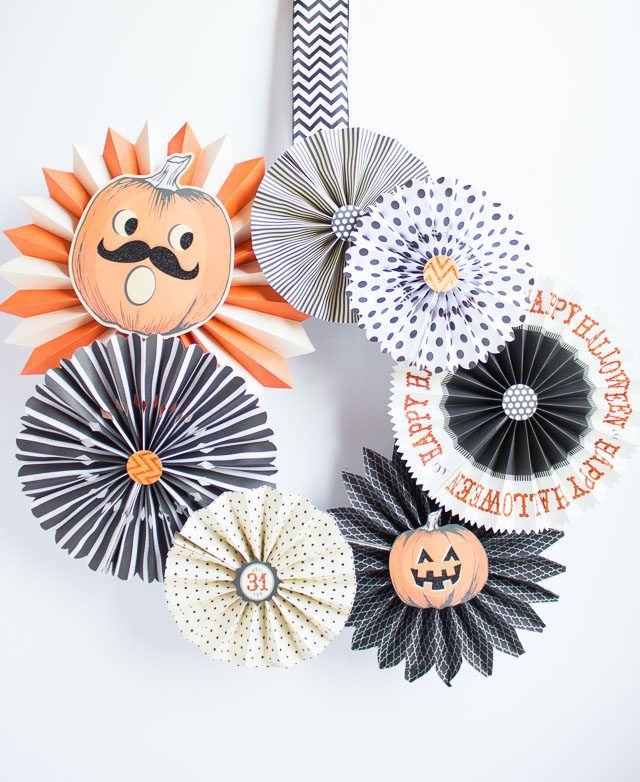 Happy Crafting !
Search this site
ETSY shop
Search Amazon
Click HERE
Credits
It is my intention to give 'credit' to whoever the picture belongs to, but Ooops does happen. If you find pictures that belong to you without 'noted' source, please let me know.