This is a low calorie version of cupcake. No oil or butter needed.  Originally this cupcake is called Roti Kukus, or Bolu Kukus. ' Roti' means bread, 'kukus' means steam.  so, Instead of baking it, you steam it.
It is very easy and economical to make but lots of people fail to make the cupcakes bloom, including me 🙂  The cause of failure is not in the recipe, but during the steaming.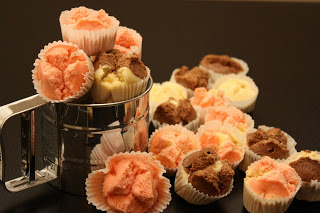 The cupcake should bloom bigger 🙂 see TIPS below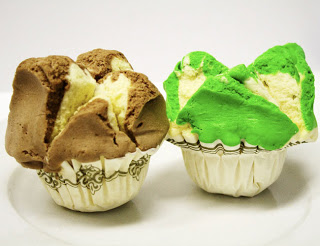 Perfect bloom
Here's how to make it.
Beat together with mixer:
3 egg yolks
1 egg white
1 C sugar
1/2 t vanilla crystals or flavor
Add and fold:
1/2 C flour, 1/4 C coconut water, sprite or soda water.
Add and fold:
1/2 C flour, 1/4 C coconut water, sprite or soda water.
Add and fold:
1/2 C flour
Divide dough into 'x' parts. (X denotes number of color)
In my case I make 2 colors; white, green and pink.
Add food coloring on each part.
Line cup or bowl with wax paper. Pour each color dough about 2/3 of the mold height.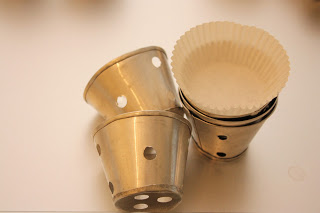 These are the original cupcake mold.
Steam for 25 minutes.  No peeking please.  Your cupcakes might not bloom once the water gets into the cake.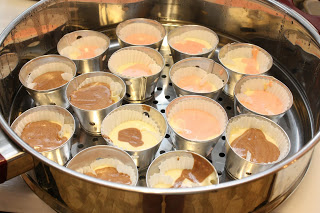 TIPS:
DO NOT open your steamer while steaming. Water drops can ruin your cupcake. Your cupcake might not bloom.
Make sure your cupcakes have enough room to bloom.  My wrappers were too short for the mold, therefore when the cupcakes didn't bloom big coz. there was not enough room to bloom.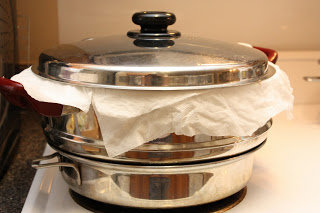 I put wet paper towel around the steamer to prevent water drips.
Search this site
ETSY shop
Search Amazon
Click HERE
Credits
It is my intention to give 'credit' to whoever the picture belongs to, but Ooops does happen. If you find pictures that belong to you without 'noted' source, please let me know.