My rum balls are basically left over of cake from cake pops and black forest.
This was my favorite goodies when I was teenager.  The original recipe calls for Marie wafer which is already good to eat by itself so it rarely made it into rum balls.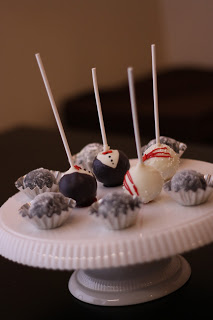 Original recipe:
3 packs of Marie wafers – crushed with blender
1/2 can sweetened condensed milk.
rum to flavor
confectioner sugar to coat
Directions:
Mix all ingredients together.
Make balls.  If dough is not sticky/thicken enough to form balls, add confectioner sugar.
Roll in confectioner sugar
note: You can add peanuts, almonds, pecans etc if you want.
If powdered sugar coated rum balls are to plain for you, you may dip them into candy coating to make more attractive designs.
These are the TWIST I make:
Substitute Marie wafer with any wafer cookies, or left over cake (crumb cake)
Substitute condensed milk with corn syrup.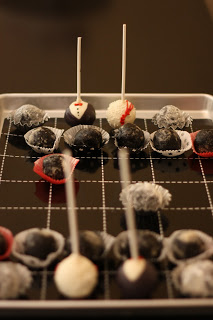 Battle of cake pops vs. rum balls
Search this site
ETSY shop
Search Amazon
Click HERE
Credits
It is my intention to give 'credit' to whoever the picture belongs to, but Ooops does happen. If you find pictures that belong to you without 'noted' source, please let me know.