In my previous article, I showed you this traditional dessert from Indonesia.  They are called Onde-Onde (pronounce: on-de  as desktop).  They are fried rice ball, covered by sesame seeds and stuffed with mung bean.
I found a good recipe 🙂 you might wanna try.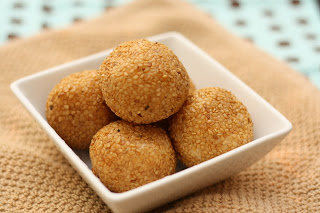 Ingredients :
* 250 gr glutinous rice flour
* 25 gr tapioca flour
* 1/2 teaspoon salt
* 1/2 teaspoon vanilla
* 15 gr caster sugar
* 1 egg
* 175 ml warm water
* 100 gr sesame seeds
* water for dipping
* oil for fry
Method:
1. Mix all the ingredients on a bowl, except sesame seeds.
2. Divide dough into 10gr each, add the filling then roll into a ball.
3. Dip into the water, then sprinkle with sesame seed.
4. Heat the oil in the deep fry pan. Fried onde-onde until golden brown.
Filling:
* 100 gr Skinless mung bean
* 75 gr caster sugar
* 1 pandan leave
* 1/4 teaspoon salt and vanilla
* 50 ml coconut milk
Steam mung bean until cooked/soft, mashed.
Put the coconut milk on a small pot,add mashed mung bean, salt,vanilla and pandan leave. Simmer until become solid, cooled.
This recipe is from Handmade and Tutorial blog.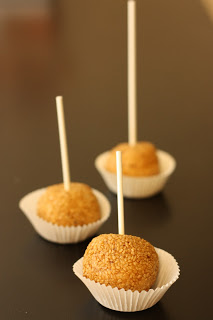 Happy cooking
Search this site
ETSY shop
Search Amazon
Click HERE
Credits
It is my intention to give 'credit' to whoever the picture belongs to, but Ooops does happen. If you find pictures that belong to you without 'noted' source, please let me know.