For the second time this week, I am making Indonesian drink/dessert.  It can be a dessert or just a drink.  It depends on how you eat the cendol.  I am too embarrassed to  share my cendol picture but I will share my recipe.
You'll need:
80 gr rice flour
20 gr tapioca starch
1 T slaked lime water
1 T pandan paste
500 ml coconut milk
Strainer – see picture
Mix all ingredients above and bring to boil.
Then follow the following step – see picture
Put water and ice under the strainer
For syrup, you'll need:
Palm sugar
Coconut milk
Jackfruit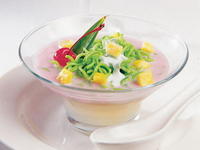 Fancy way to serve cendol
Search this site
ETSY shop
Search Amazon
Click HERE
Credits
It is my intention to give 'credit' to whoever the picture belongs to, but Ooops does happen. If you find pictures that belong to you without 'noted' source, please let me know.