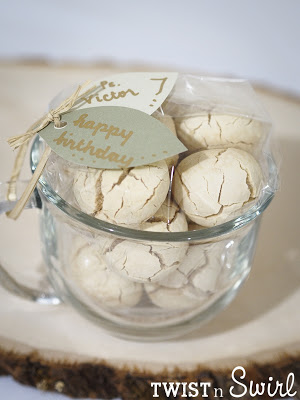 Kue Bagia aka Bagia cookie originated from Kupang, Indonesia, the closest island to the northern part of Australia.  While growing up, my aunt who lives there often sent us these cookies.  It taste different at first but after 2 cookies I couldn't stop eating them.  I never asked whether she made them or bought them.  20 something yeas later, out of the blue, I was craving for these.  Thank to Blackberry messenger, I got a hold of my aunt and 3 hours later, I got to enjoy kue Bagia.
These cookies do not contain any flour, instead it's using tapioca starch, similar to corn starch.  You can buy it at Asian market.
Here's the original recipe which will make tons of cookies.  I only do quarter of the recipe and I ended up with 36 little cookies, about 1 inch in diameter.
4 egg yolk
500 gr sugar
375 cc melted margarine
250 cc milk
1500 gr tapioca starch
1 T baking soda
1/2 t vanilla essence
Part A. Mix 4 egg yolk and 100 gr of sugar until dough is pale and fluffy.  High speed mixer for about 15 minutes.
Part B. Boil milk, margarine and 400 gr sugar.  Set aside and let it cool down.
Set oven to 300 F.
Mix part A and B.  Add baking soda and vanilla essence.
Add tapioca starch and mix well.  If you have a stand mixer, you don't have to do this by hand :), just turn the speed to low, and let it mix till the dough is pulling from the bowl.
Lay parchment paper on cookie sheet
Make about 1 inch ball and place it on cookie sheet.  These cookies don't expand during baking so 1 inch spacing is good enough.
Bake about 40 minutes or so.
note: The cookies should crack on top and yipppee I was successful on my first trial.
I love making these cookies because nothing stick to my hands.  The tapioca starch bind all the ingredient together.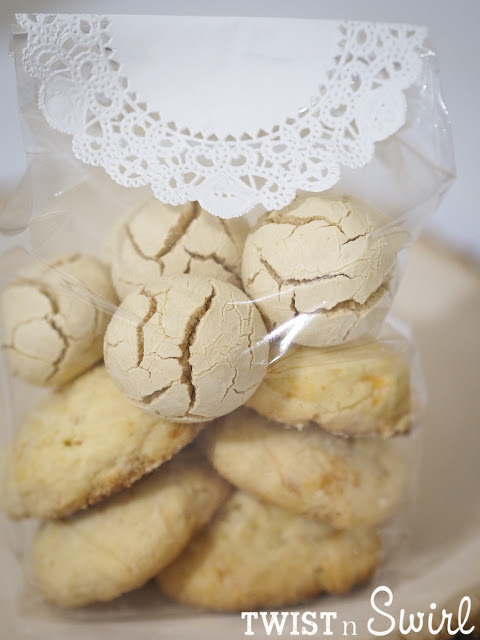 Kue Bagia and Pinapple cookies.
Search this site
ETSY shop
Search Amazon
Click HERE
Credits
It is my intention to give 'credit' to whoever the picture belongs to, but Ooops does happen. If you find pictures that belong to you without 'noted' source, please let me know.