Whether it's a cute bunny, or a porky pig…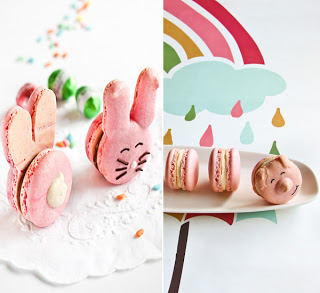 or Hello Kitty, bumble bee, even a caterpillar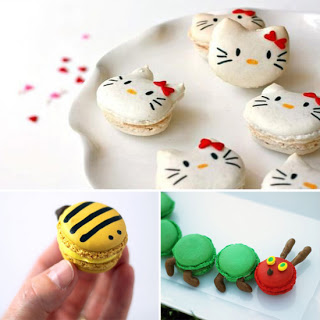 or a fruity macaron…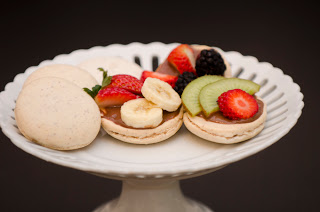 Whatever shape and flavor macarons you are going to make, you must try the infamous Pierre Herme recipe.  So far, it's a fail proof recipe.
PIERRE HERME MACARONS
You'll need:
150 grams almond powder
150 grams confectioners' sugar
56 grams fresh egg whites, room temperature
150 grams granulated sugar
38 grams water
56 grams old egg whites, room temperature
Directions:
Sift the almond powder and confectioners' sugar together. Set aside.
Combine the granulated sugar and water in a saucepan and cook until it reaches 245F. Don't stir the syrup as you will end up with crystallized mass.
While the sugar is cooking, start whipping the aged egg white on medium speed until it forms a soft peak.
When the sugar is ready, pour the cooked syrup in a steady stream over the meringue with the mixer running on slow. It will splatter, but don't try to scrape them into the meringue as you would get lumps.
Increase the speed to high and continue beating until you have a stiff glossy meringue.
Mix the fresh egg white with the almond-sugar mixture and blend together.
Fold in the meringue into this almond mixture in addition.
Add about a third of the meringue and fold progressively, then proceed with another third of the meringue and fold it in.
Don't overfold the batter as you would have a gloppy mess.
Consistency is really important at this point, some people say that it should flow like a lava. If you're not sure, try piping a little dollop and see if it leaves a peak that will not spread or if it spreads too fast. You should still see a little peak after you pipe, but the peak should disappear or almost disappear after you pipe a row of them.
Put the batter in a piping bag with round tip (approximately 9mm in diameter) and pipe the macaron batter on top of silpat or parchment paper-lined baking sheet. Bake at 325F for about 14-15 minutes. Once baked, slide the silpat or parchment paper onto a wire rack to cool slightly. Peel each macaron shell carefully.
You can fill them with ganache or flavored buttercream. Keep it in an airtight container in the fridge and let it sit at room temperature for a few minutes to soften up before consuming.
Search this site
ETSY shop
Search Amazon
Click HERE
Credits
It is my intention to give 'credit' to whoever the picture belongs to, but Ooops does happen. If you find pictures that belong to you without 'noted' source, please let me know.