I received email from the local farmer's market that there would be a Pie Contest on upcoming Saturday.  I am not a lover of American Pie due to its sweetness, so there's no way I am making a Pie.  I wiki the definition of a Pie and 2 Pies came to my mind: A fruit Pie and an Indonesian Dutch Shepards Pie.  So I was determined to submit both pies in the contest.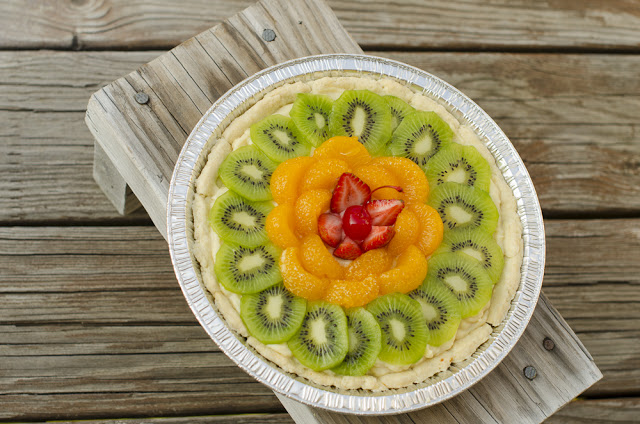 The pie tasted good, many of my friends like it.  But the judges have different opinion 🙁  O well..
I think my pie is just perfect: I love the crispiness of the crust.  The custard filling is not too sweet and not too rich.
You should try my recipe and let me know what you think.
For the CRUST:
Combine 100 gr unsalted butter or margarine (room temperature), 225 gr all purposed flour, 1/2 t salt.  Add 1 egg yolk and knead briefly.  Add 3 T cold water if needed.  Tip: don't microwave the butter or margarine.  You'll end up with clumps of flour.
Wrap dough with plastic and refrigerate for about an hour.
Take out dough from the refrigerator and let it sit at room temperature for 10 minutes.
Roll dough between 2 plastic sheets and lay it on the greased pie pan.
Gently press dough to resemble pie :).  prick the bottom with a fork
Bake in the preheated oven 350F for about 10 minutes or more.
For the custard filling:
In a saucepan, combine 250 ml whole milk, 25 gr corn flour and 50 gr sugar.  Stir constantly and bring it to boil.
Off stove, take a little bit of this mixture and add it to 1 egg yolk.  Then transfer this mixture back to the milk mixture and bring to boil.
Add 1 T margarine, 1/4 – 1/2 t vanilla essence and good amount of rum 🙂
Remove from heat, cool it to room temperature and refrigerate.
Based on my experience, this custard filling can be stored up to 3-4 days.
To assemble:
Spoon filling into the crust and decorate with fruits.
Trust me this pie is good. I am gonna make more tomorrow.
Search this site
ETSY shop
Search Amazon
Click HERE
Credits
It is my intention to give 'credit' to whoever the picture belongs to, but Ooops does happen. If you find pictures that belong to you without 'noted' source, please let me know.