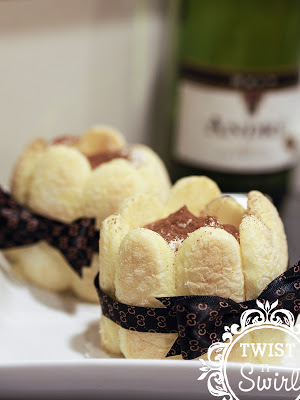 Here's Tiramisu cake by Cake Boss :
1 C brewed espresso
1 C sugar
1/4 C + 1 T coffee liqueur
4 egg yolks
1 pound Mascarpone Cheese
2 T sweet Marsala
1 C heavy cream
40 lady fingers (2 packages)
1/4 C cocoa powder
A mixture: Bring to simmer 1 C Espresso, 1/2 C sugar and 1/4 C coffee liqueur.  Whisk for 3-4 minutes.
B mixture: Mix egg yolk, Mascarpone cheese, Marsala, 1/2 C sugar and 1 T coffee liquor for 7 minutes.  (Medium speed).
C mixture: Whip heavy cream in separate bowl until stiff peaks form. (Medium to High speed)
D.Fold C cream into B mixture.
To assemble:
Dip and (soak) lady fingers in A mixture.
Arrange a layer of lady fingers in the bottom of container.
Spoon a layer of D mixture over the lady fingers.
Repeat.
Dust the tiramisu with cocoa powder.
Cover loosely with plastic wrap and refrigerate for couple hours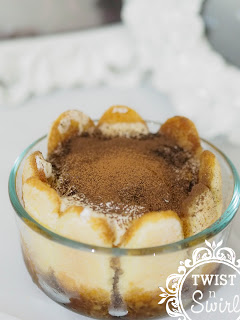 Just for the presentation, I arrange the lady fingers vertically instead of in the bottom of container.  Tiramisu tastes better when lady fingers are soaked with the coffee mixture.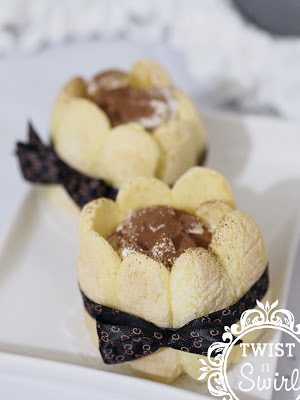 To do this dainty presentation, I made a ring from plastic sleeve, arrange the lady fingers (un-soaked) inside the ring, freeze it, then spoon the cream mixture into the center.  Dust with cocoa powder.  I didn't use coffee mixture at all.
source: USAtoday
Search this site
ETSY shop
Search Amazon
Click HERE
Credits
It is my intention to give 'credit' to whoever the picture belongs to, but Ooops does happen. If you find pictures that belong to you without 'noted' source, please let me know.