… birthday in a HOT AIR ballon.
My daughter is 6 month old today, I already plan for her 1st Birthday.  She likes looking at the picture of a cow with a red barn behind her rocking chair.  I know that would be perfect theme for her 1st birthday.  Instead of the a bunch of animals having a blast in a barn, I want to take them up for a hot air balloon ride.  Here is sketch her birthday cake.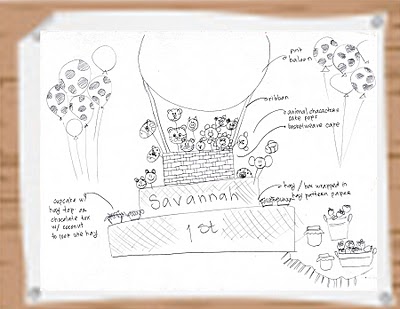 Feel free to make this cake before I do, but don't forget to send me some pictures.  I would like to know how you interpret my sketch.
To make this HOT AIR balloon cake assembly, you'll need:
2 or 3 layer of basket-weave cakes – 9″ would be ideal.  You may substitute the cake with dummy cake.  You can do the basket-weave with icing or fondant.  If you like shortcut, use a real basket; put foam or cabbage inside as a base to stick your cake-pops

Instruction to make basket-weave

Different style of basket-weave
Animal character cake-pops

Barnyard friends

Let's invite more friends …here are Barnyard extended friends
latex balloon – 17″, or any light weight ball to resemble baloon
ribbon or stick to hold the balloon
Additional decorations,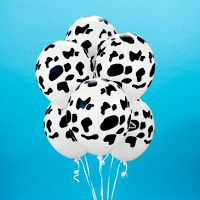 approx. $ 9.99 per 25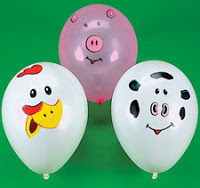 approx. $ 3.99 per set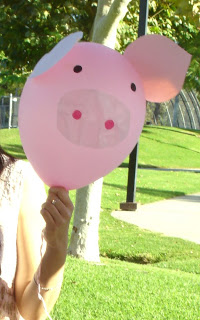 you can even make your own farm animal balloon
2 different size boxes wrapped with hay-pattern paper, or use real hay straws.
some cupcakes decorated with hay pattern icing – use 'grass' tip # 133.
cow print balloons, or a set of farm animal balloons – regular size
solid color latex balloons – regular size.  I prefer blue and white to assemble clouds in the sky
picnic blanket / throw to put your party favors or baskets
streamer with wordings: '(kid's name) 1st BARNDAY' – optional
Some ideas for Party favors,
strawberry jelly or chocolate dipping in baby food jar
strawberry in a aluminum bucket
Food and beverages:
sandwiches in a picnic basket
strawberry lemonade. or non-alcoholic sangria
sangria wine for adult
Invitation,
dress your kid with farm outfit, such as checkered outfit, jeans and hat, develop it in 4″x6″ and you make your invitation a keeper.
Now you are ready to have your BARNYARD BASH.  Remember to take some pictures for me.
Search this site
ETSY shop
Search Amazon
Click HERE
Credits
It is my intention to give 'credit' to whoever the picture belongs to, but Ooops does happen. If you find pictures that belong to you without 'noted' source, please let me know.