Last saturday, I made Betty Boop's birthday cupcakes for Karen's 50th surprise birthday party.  I was not sure where to find the cake topper in such short notice.
You see it everywhere when you don't need it, right?  All the sudden they just disappeared from you when you need them.
O well I had to make plan B.  Here's my plan B cake topper.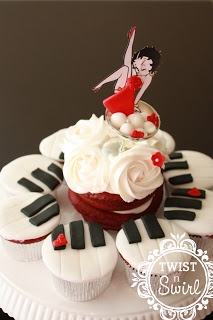 Betty Boop cake topper
I printed out Betty Boop picture with her sexy pose, placed her on the mini plastic champagne cup.  To make it more 3D, I made a red dress using fondant and jumbo heart shape sprinkle.  I think it turned out pretty well.

Originally, I was asked to make 24-25 cupcakes to go on the cupcake stand…..(euwwww).  I never like those stands.  It is convenient but makes any cupcakes look inexpensive.
Anyhow, I made 11 pianos cupcake to go on the base, 7 of the red cupcakes with little black dress for the 3nd tier, and 5 of the white rose icing on the 2nd tier.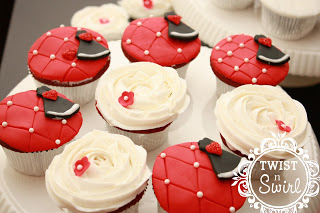 Other cupcakes to compliment the theme
Since I had some free time, I paid a visit to Macy's.  I was ready to spend 30 something dollar on a nice ceramic serveware and Hallelujah, they were on sale.  You won't believe how much I got it for.  Any guess?  It was dirt cheap.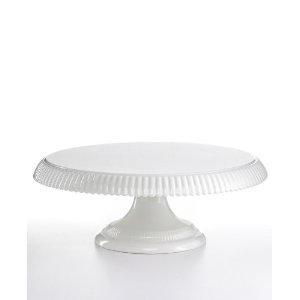 2010 collection item whiteware by Martha Steward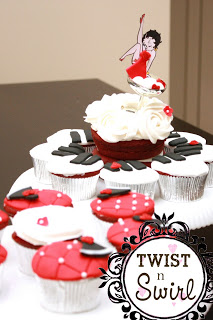 love the color combination! very sexy I think
Now my cupcakes sat happily on the white collection item serveware signed by Martha Stewart.  Ooooo how fancy.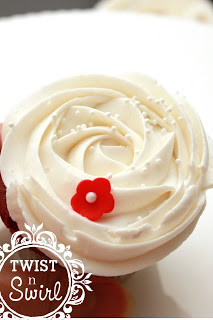 My swirl !
I always admire this 'swirl' on a cupcake.  Finally got the chance to make one 🙂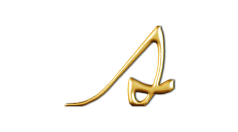 Search this site
ETSY shop
Search Amazon
Click HERE
Credits
It is my intention to give 'credit' to whoever the picture belongs to, but Ooops does happen. If you find pictures that belong to you without 'noted' source, please let me know.