Every little girls dreams of a magical fairy tale party.  Giselle was the princess on her 5th birthday.  To complete her fairy tale birthday, she wanted an enchanting castle cake in pink and purple.
Wilton has a Romantic Castle Cake set for $ 20.99 with 3 sizes of detailed turret towers and removable peak pieces, 6 lattice windows, a paneled door and main roof peak.  A very convenient set, I thought.  better than building the tower myself.
Without any planning whatsoever, I estimated no more than 2 hours to decorate the cake but I was so so wrong.  Even with 2 people working on it, we spent 7 hours to finish the cake.
Here's behind the scene story:
First we make the fondant flowers.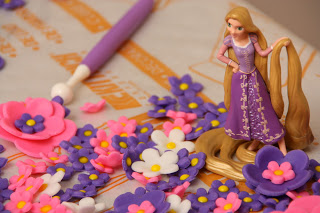 countless little and big flowers
While waiting for the flowers to dry up, we drilled a hole on each turret base to insert a bamboo stick.  Can you imagine putting these turrets on a cake without tipping it over? let alone transporting it to the party?
… disaster …
Then we covered the peaks with fondant.
Gluing the flowers and adding leaf icing to windows, doors and turrets was the most time consuming process.
It was almost done …  It looked good as it was … but we felt something was missing.
The flags added the fullness and realness of the castle.  And off course the beautiful princesses.
I saw these adorable hats on etsy and I had to have it on the next princess party.
Search this site
ETSY shop
Search Amazon
Click HERE
Credits
It is my intention to give 'credit' to whoever the picture belongs to, but Ooops does happen. If you find pictures that belong to you without 'noted' source, please let me know.