If you are craving for sweet close to midnight, try this recipe.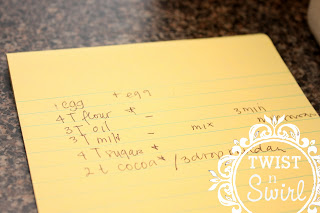 recipe for quick cake
The star, plus and minus sign are my sign to cut down steps 🙂
Ingredients with star are supposed to be mix together first.
Then, add ingredients with plus sign.
Last, add ingredient with minus sign.
Mix everything in a microwaveable mug.  2 t cocoa can be replaced with other flavors you like.  Cook in microwave for 3 minutes.
Do you like my sign language?  I am not good at reading directions so I come up with the signs.
Anxiously waiting for my cake.
1.22 minutes to go …  hungryyyy
Finally,
Here's the sneak peak of my 'Mug' cake.
My upside down 'Mug' cake is ready to be eaten.
Search this site
ETSY shop
Search Amazon
Click HERE
Credits
It is my intention to give 'credit' to whoever the picture belongs to, but Ooops does happen. If you find pictures that belong to you without 'noted' source, please let me know.