I recently had some friends over for end of year lunch.  Also to celebrate the good news from Savannah recent surgery.
I knew I wanted to make Indonesian dishes but debated if I want to spend the time to make it.  Indonesian dish is so complicated and requires many condiments on the side.
After spending drooling time on Instagram, I made up my mind to cook Yellow Rice Tumpeng: a cone shaped rice surrounded by assorted side dishes from vegetables to meats.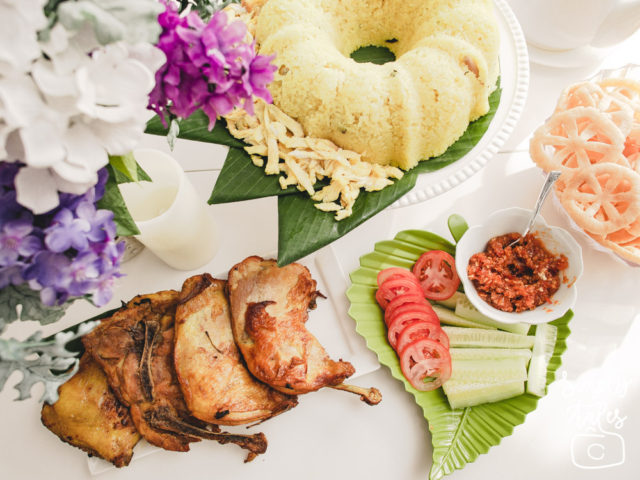 Tumpeng is a traditional Indonesian dish for ceremony / celebration of special event such as birthdays, grand opening of businesses and many other joyous events.  It is used as symbol of gratitude to God an appreciate togetherness and harmony.  After the people pray, the top of tumpeng is sliced off and offered to the most important person before the guests in the ceremony can enjoy the tumpeng.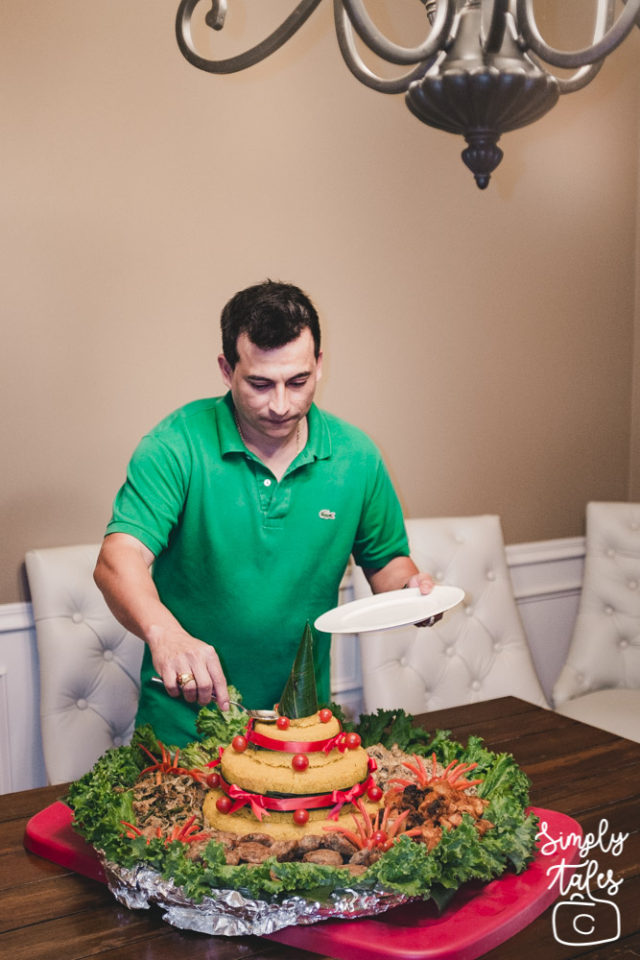 The yellow rice is easy to make but the side dishes are very time consuming.  The garnishes were made with vegetables and fruits.
To shorten the time I spent in the kitchen, I only made omelets and fried chickens.  I used bundt mold to shape the rice (giving a twist of the traditional cone shaped Tumpeng).   My daughter called it a Rice cake.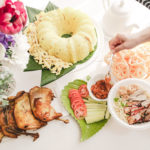 Yellow Coconut Rice
Ingredients
5

Cups

Jasmine Rice

1

Cup

Sticky Rice

1

piece

Pandan leaf

( optional )

1

stalk

Lemon Grass

( cut and smashed )

5

pieces

Kaffir Lime leaves

( You can put more for stronger taste )

3

pieces

Bay leaves aka Salam leaves

1

teaspoon

Tumeric

( This will give yellow color. Add more if necessary )

salt

( to taste )

400

ml

water

1.5

cans

coconut milk
Instructions
In a pot, boil rice mixture with water untill the water is absorbed and the rice is almost tender. The rice grain should still be separated.

In a separate pot, bring coconut milk and the rest of ingredients to boil over medium low heat.

Add coconut milk mixture to the rice and mix thoroughly.

Put rice in a steamer. Steam rice for about 30 minutes.

Discard all leaves from the rice.

While still warm, mould the rice into desire shape, or leave it as is. If you use a mold, pad rice into the mold and gently lift out the mold.
Obviously I didn't pulled out the leaves from my rice.  I was running out of time, cutting and folding the banana leaves for additional flavor and decoration.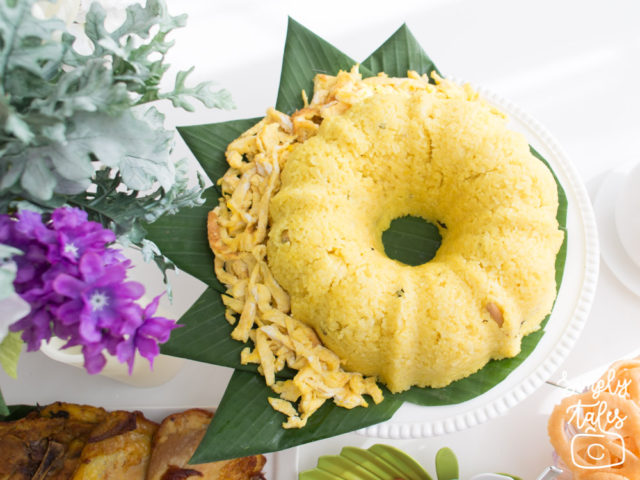 These fried chickens were not deep fried instead air-fried using Philips Airfyer for 7 minutes each.   While waiting for the rice in the steamer, I put chicken in the Airfryer, made omelets and prepared the salad.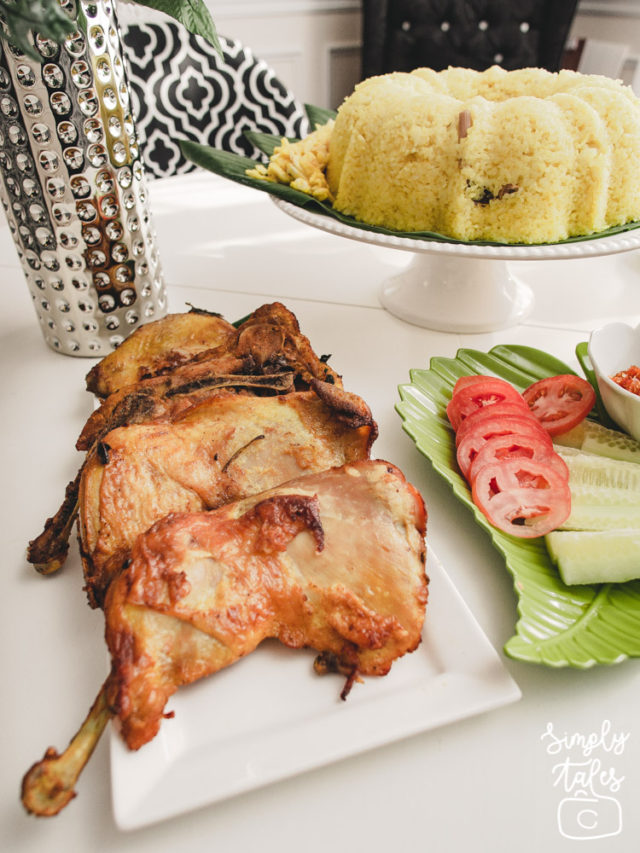 I purchased ready to eat Duros (Mexican crackers) to substitute for Indonesian shrimp crackers from my local Hispanic supermarket for $ 1.99 per bag.  Good deal for someone who doesn't like to fry.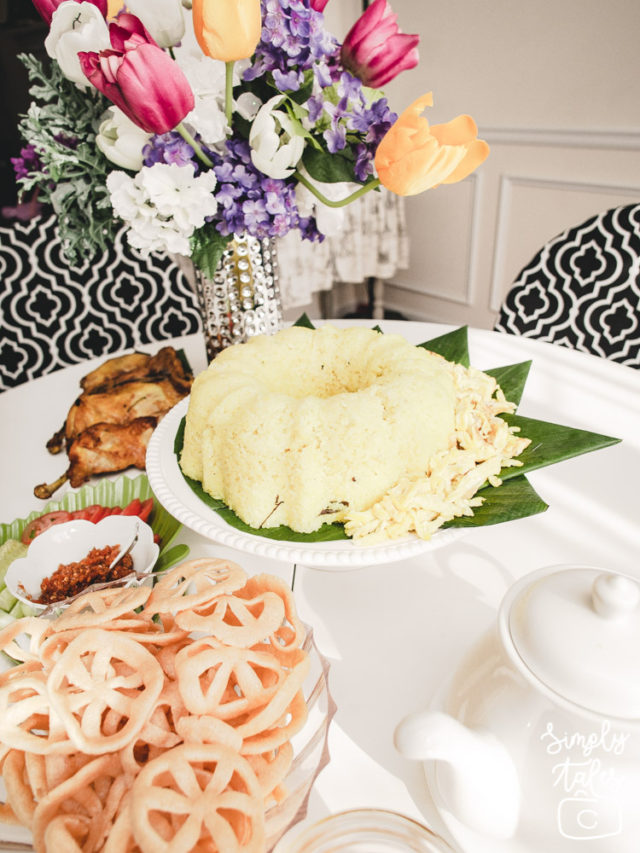 This salad is callled Lalapan.  It usually consists of fresh cut tomatoes, cucumbers, cabbages, green beans and basil leaves.   Last but not lease is a must have condiment in Indonesian cuisine: sambal aka chili based sauce.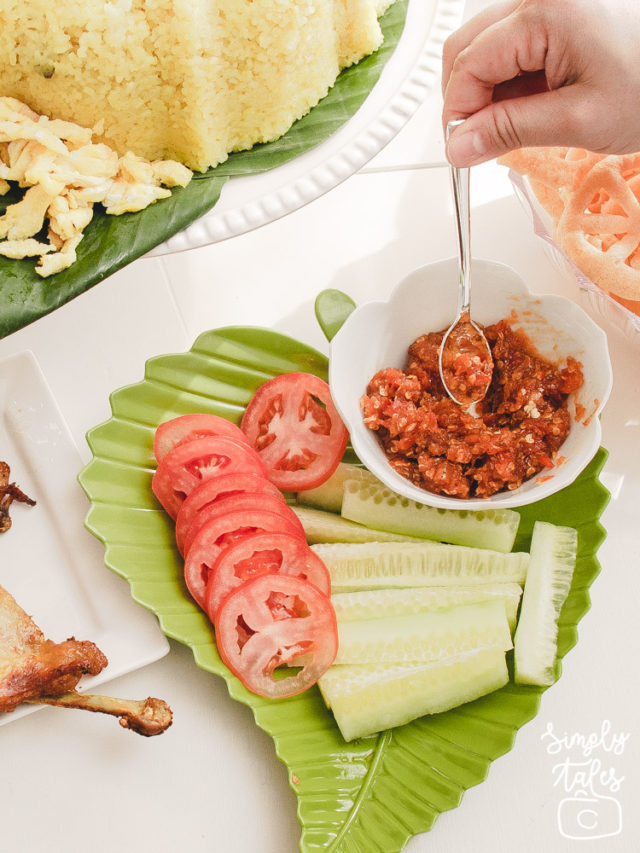 Everything was delicious and the taste was not overwhelming.  We had a great time …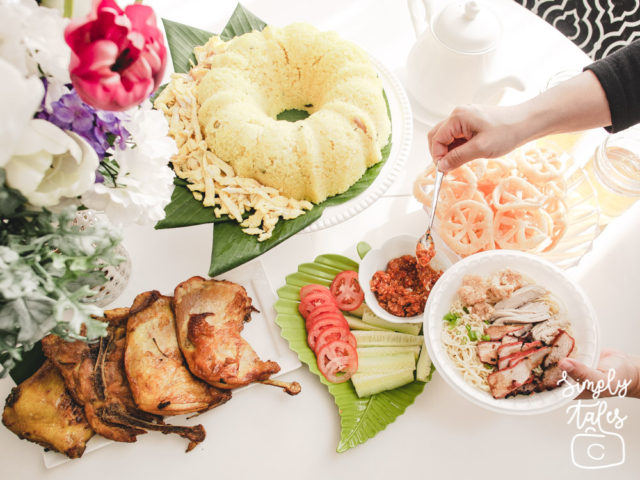 The noodle in the picture was home-made and prepared by my friend, Madam Go.   It is callled Mie Ujung Pandang.  It is served with chicken broth and fresh cut chili.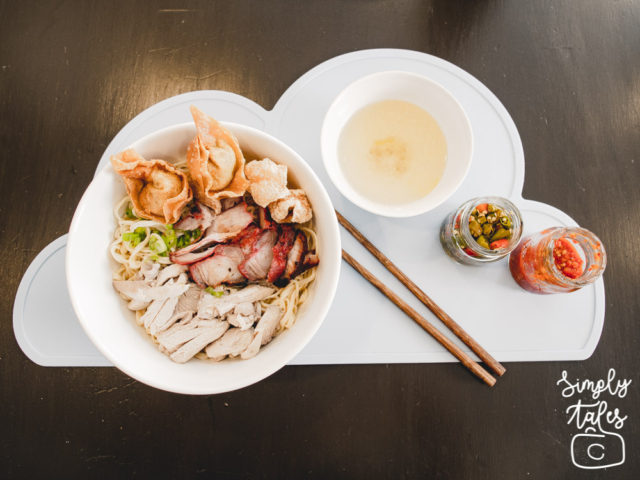 When Madam Go likes to home-made everything, I on the other hand avoid it at every opportunity.   I opt for semi home-made cooking.
Speaking of semi homemade cooking, I purchased this Indonesian style Potato Fritters cooking mix but didn't have time to make it.  Only $3-4 per package to make 1.5 dz. potato fritters.   All I need to do is to add water and egg to the pre-mix then deep fry it.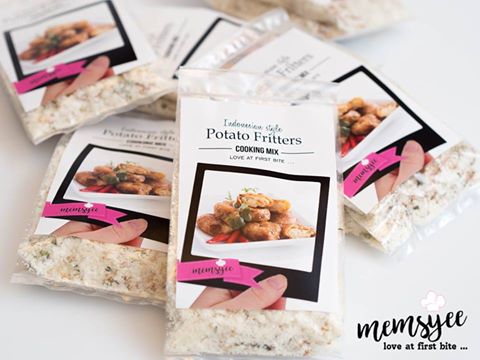 Those were my last semi-homemade cooking of 2016.
I am looking forward to do more semi homemade cooking this year.  Less time working and more time to enjoy.
Thanks for reading !
Search this site
ETSY shop
Search Amazon
Click HERE
Credits
It is my intention to give 'credit' to whoever the picture belongs to, but Ooops does happen. If you find pictures that belong to you without 'noted' source, please let me know.