Happy New Year lovelies !  What a new day, new year and new beginning.
I am wishing you beautiful moments and memories your heart desires.
I can tell that 2019 will be WILD and AWESOME.
Thank you for supporting me in every blog post.
This first month of 2019, I would like to share quick Indonesian dessert recipe called Kolak Pisang aka Banana in Coconut Milk.
Kolak Pisang consists of sweet potatoes, yam, cassava, plantain, and palm seeds that are served in creamy sweet coconut milk as dessert.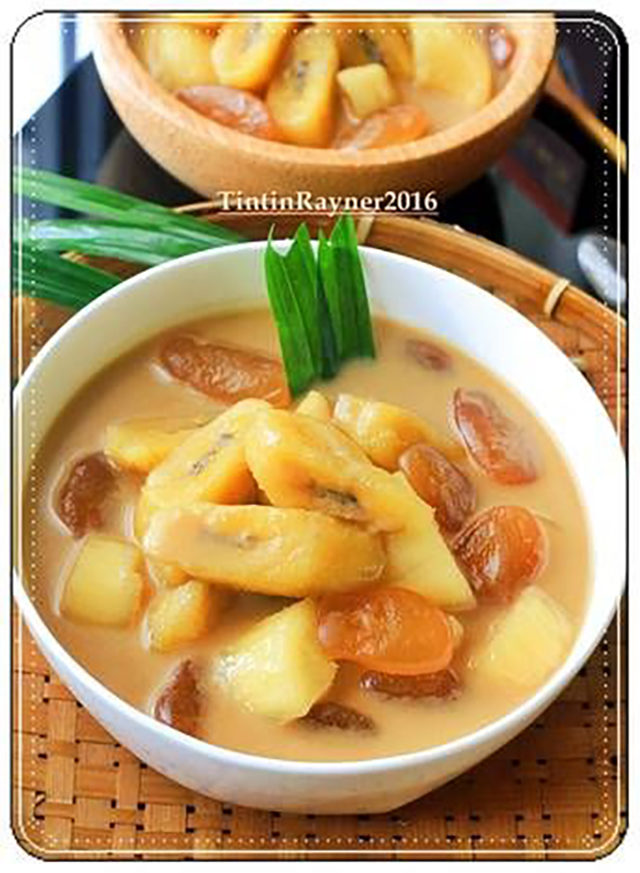 Kolak pisang picture by Tintin Rayner
Banana in Coconut Milk
Ingredients
1

ripe Plantain banana

cut in pieces

1-2

Yam / Sweet potatos

cut in pieces

1

Yucca root

cut in pieces

1

can

Palm seed

wash and drain

1

can

Jackfruit

drain and cut small.

1

can

Coconut Milk

Palm sugar

as needed. Start with 3 Tablespoon.

pinch

salt

1

Pandan leaf
Instructions
Boil around 500 mL water. Add Yam and Yucca Root. Boil until soft.

Add the rest of ingredients. Start with half can of coconut milk first and lower the heat.

If you feel the coconut milk is too thick, add more water and vise versa.
Recipe Notes
You can adjust the sweetness and what you want to put in the desserts, such as pumpkins.

These are how some of the ingredients look like.  They come in many brands and under $3 each.  You can skip these ingredients except the coconut milk.
Kolak pisang can be served cold or warm.  My favorite is the warm Kolak, perfect for this cold January weather.
Happy Cooking !
Search this site
ETSY shop
Search Amazon
Click HERE
Credits
It is my intention to give 'credit' to whoever the picture belongs to, but Ooops does happen. If you find pictures that belong to you without 'noted' source, please let me know.