Today I just need a little pick me up food.  I need sweet so bad.  I was so determined to make chocolate pudding when I see some left over lychee and mandarin oranges from last week Fruit pie and pudding.  But then I saw coconut milk.  If I don't use it it will go bad, and I feel so guilty throwing away food especially coconut milk.  With today market like this, I think it's worth it to invest in coconut milk.  The price has doubled since last year; from 99 cents to $ 2.29 a can. Crazzzyyyy.
Anyway, I saw someone posted Biji Salak dessert on facebook couple weeks ago.  And I have been wanting to make it.  Not sure if what I made 'Bubur Canil' is the same as 'Biji Salak' taste wise, but they looked the same.  If I am not mistaken Bubur Canil is creamier and it served kinda dry while Biji Salak is served like a soup.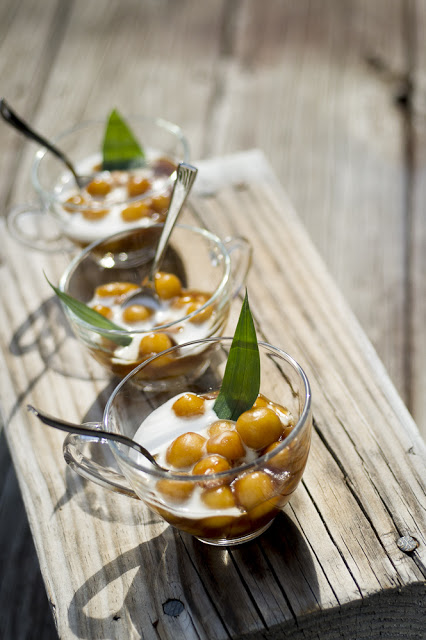 It's very easy to make Bubur Canil.
Boil 100 gr palm sugar in 500 ml water.
Meanwhile mix 100 gr glutinous rice flour and 25 gr rice flour.  Add about 100 ml water, mix dough thoroughly.  Make small balls.  I believe in Indonesia, they shape it like a worm about 2 inches long.
Put the balls inside the boiling palm sugar water and let them cook until all balls are floating.
Mix 3 T rice flour in a little bit water, and put it inside the palm sugar water. Stir till the water becomes creamy.
Bring to boil or microwave 150 ml coconut milk.  Add a bit of salt and Pandan leaf.
It's better consumed while it's warm.  I like to put just a little bit of coconut milk on it.  I love the creaminess, the sweetness and yet a slight taste of salt.  It reminds me of popular American cupcake: Salted Caramel cupcake.
Search this site
ETSY shop
Search Amazon
Click HERE
Credits
It is my intention to give 'credit' to whoever the picture belongs to, but Ooops does happen. If you find pictures that belong to you without 'noted' source, please let me know.