Aside from my busy schedule making a castle cake, 50 cake pops and a quilted cake for this weekend, I was so enlighten seeing this cupcake stand.  I have been in search for a unique cupcake stand lately and this one definitely won my heart. Who would ever thought an old chandelier can be a cake stand….kudos to Jaimie Nye who thought of this idea,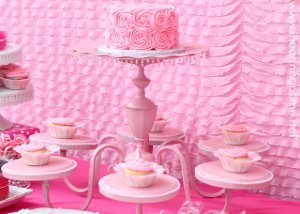 This chandelier stand was an artwork of Jaimie Nye
Do you agree with me that this cake / cupcake stand is just gorgeous?
Materials:
Old chandelier
Wire cutters
Super glue
Wooden craft circles
Curvy plate
Primer
Spray paint
Pearl trim or ribbon
Instructions:
First snip off all the wires with wire cutters and unscrew the top.
Next, super glue wooden circles onto the legs. Then glue a curvy plate to the top.
Once the glue is set, take the chandelier outside and give it a good coat of primer. Yes, coating it with primer is very important to get a perfect and true color paint later on. Then spray paint it with your choice of color…The pink in the picture used a dusty light pink. Once it is all dry, decorate the circle plate with pearls or ribbon.
and now you can show off this stand in your next party.  I know I will.
Search this site
ETSY shop
Search Amazon
Click HERE
Credits
It is my intention to give 'credit' to whoever the picture belongs to, but Ooops does happen. If you find pictures that belong to you without 'noted' source, please let me know.