The gold chandelier in the dining room has been bugging me for awhile now, and I found out my sis in law hated it too.  Too bad I don't have the picture of it.  I thought the black chandelier would fit the house better.  After spending short time searching the web, I knew I wouldn't buy a new chandelier which cost from $ 100 up.  My only choice was painting the chandelier.  So I headed to Home Depot and bought myself a bronze primer and Rust-oleum bronze oil finish spray paints.  They cost me about $ 12.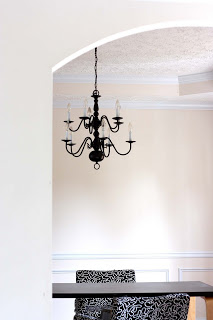 Yes, you need to get the primer.  It makes your painting job easier.  you can use a black primer if you will.  The final color is black with dots of bronze.  I love it.
step 1: clean the chandelier
step 2: coat with primer first, let dry
step 3: spray with the final color and let dry
To make it more fancy, I wanna to dress it up with bobeches.  What is bobeche? it's a saucer used to catch candle wax.  I need 9 pieces of which it's almost $ 8 each.  I can't spend $72 period.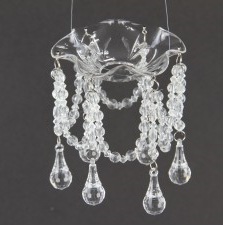 acrylic dangle bobeche
 Instead of bobeches, I used the left over acrylic crystal strings from the wedding.  The chandelier you see in the picture is not complete yet.  I still need to re-arrange the strings, but you get the idea.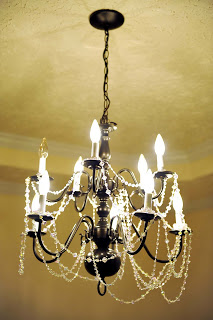 The whole process from putting the chandelier down, clean, paint, dry and re-assemble took me less than 8 hours.  Quick, EASY and inexpensive. 
Search this site
ETSY shop
Search Amazon
Click HERE
Credits
It is my intention to give 'credit' to whoever the picture belongs to, but Ooops does happen. If you find pictures that belong to you without 'noted' source, please let me know.