A while ago, I was browsing the internet and found a website featuring incredibly cute cupcake wrappers.  I wanted to buy some but the shipping cost was pricey.  I wonder if I can make it myself with the help of cricut machine.  Unfortunately my computer crashed and I lost my cricut software.

Lucky me, Jo-Ann was having a big sale on scarp-booking paper.  I got myself a bunch and my experiment began.  It was not as easy as tracing a cupcake liner into paper as I thought.  It required a lot of trial and errors.  Finally, I came up with the right rainbow pattern for a perfect regular size cupcake wrapper.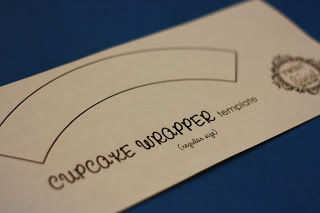 Regular size cupcake wrappers.  You may adjust the height accordingly.
I have no need of these cupcake wrappers at the moment so I made mine simple… just paper with scalloped edge.  To glue the end together I used clear tape.  I suggest you use a double sided tape for a cleaner look.
You can go fancy with it by adding ribbons or rhinestones.
You can use solid color paper and add-on stamps.
Wouldn't it be awesome to use newspaper or lunch brown bag?  maybe for Earth day cupcakes?
Yes? No? Maybe?
Here are the summary.  To make a cupcake wrapper, you'll need:
paper – plain or with pattern
double sided tape
craft scissors  – optional
add-on accessories, such as ribbons, rhinestones – optional
stamps – maybe
The most important thing is the 'Cupcake Wrapper' template, see below.
One 12″x12″ scrapbook paper can make 5-6 cupcake wrappers.  Happy crafting !
Search this site
ETSY shop
Search Amazon
Click HERE
Credits
It is my intention to give 'credit' to whoever the picture belongs to, but Ooops does happen. If you find pictures that belong to you without 'noted' source, please let me know.