Hello there !  How are you holding up this summer?  I am not so much liking the summer weather.  I tend to stay indoor and my daughter doesn't mind.  We do a lot of crafting activities and she is picking up pretty well.  Anyway, some people has shown interest of the Hot Air Balloon party.  And the number ONE question is …
How to do Hot Air Balloon Netting?
Let's check out the illustration below.  Thanks to Love Inc Mag for providing the step by step guidance as well as illustration to do the netting.
Cut four strands of hemp cord that measure 16 inches in length.
Tie a knot directly in the middle of the strands. This is the top of the netting.
Divide the cord into four sections consisting of two strands each.
Tie a knot in each strand two inches from the center
Affix the knot at the top of the balloon and separate each strand of cord. Tie to cord that is associated with the other knot.
Repeat step five with the next layer.
You can always buy the netting @ balloons123 if you like to safe some time making it.  It is around $ 2 each for 36 inch net.
Please check out Love Inc Mag website for step by step of creating a Hot Air Balloon centerpiece.
If you are not using a Helium Balloon, you can do the shortcut using a skewers to hold the Balloon like object.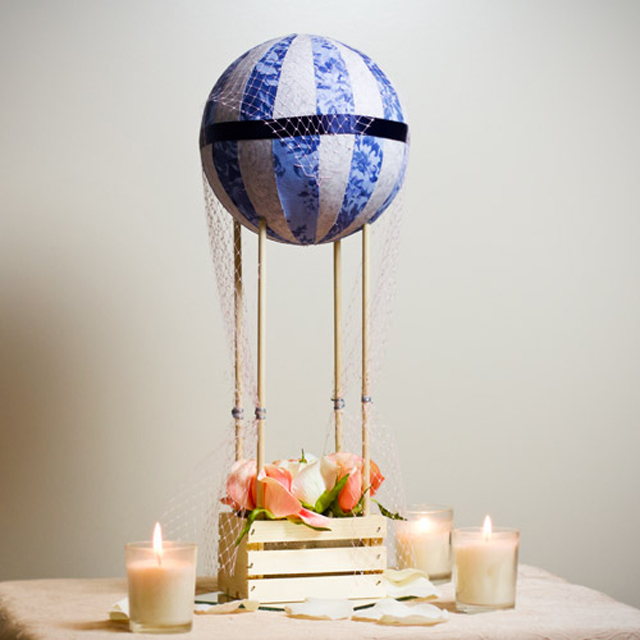 Read Full Post
There are endless beautiful inspirations that I pin on PINTEREST.  Please come and check it out.
Ohhh, did I tell you that My next project is making a Hot Air Balloon accessories organizer.  Come back for pictures of it.
Search this site
ETSY shop
Search Amazon
Click HERE
Credits
It is my intention to give 'credit' to whoever the picture belongs to, but Ooops does happen. If you find pictures that belong to you without 'noted' source, please let me know.