I have seen cake with black icings or black fondants … many of them.  But none of them caught my attention like this one.  The effect of chalkboard is so playful and eye-catching.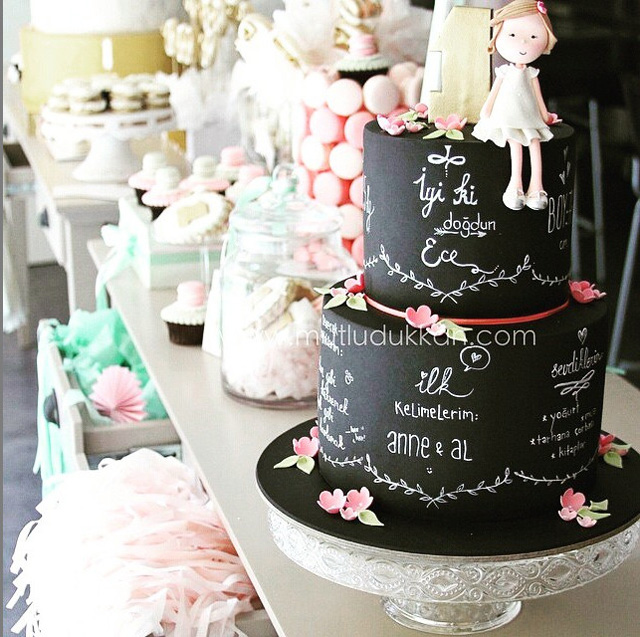 Ah, people are so creative…
Once you know how to make it, the possibilities are endless… You can make chalkboard cakes, chalkboard cupcakes, chalkboard cookies, you name it.
The chalkboard look alike fondant is just using regular black fondant… How about the chalk?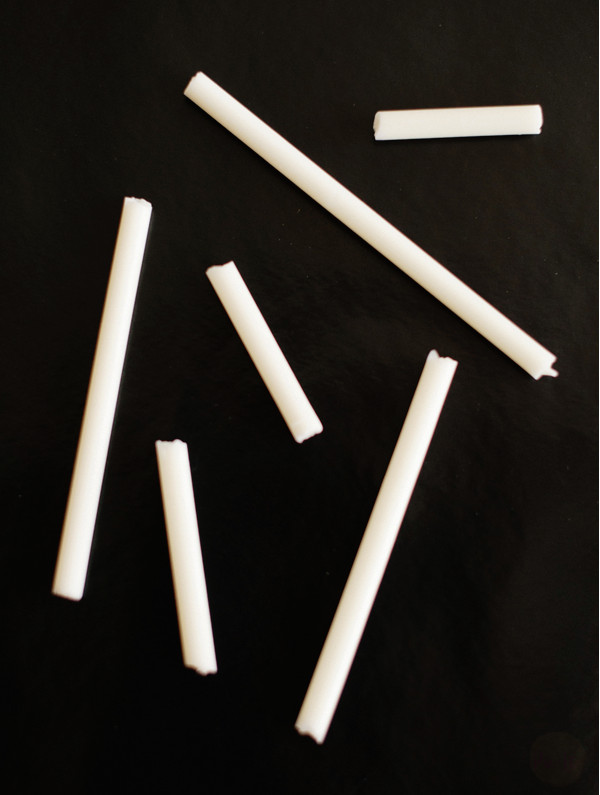 A Subtle Revelry wrote this edible chalk recipe on her blog:
" How to make candy chalk
Melt about 6-8 ounces of candy melts in a microwave-safe bowl, following instructions on package. Allow to cool a few minutes before scooping into a ziplock bag and sealing.
Place 3-4 straws in a tall glass filled halfway with regular sugar (to keep straws upright). Snip off one corner of the ziplock bag containing melted chocolate and slowly squeeze and fill straws with the chocolate.
Place glass in the freezer for 10-15 minutes to allow chocolate to harden. Remove from freezer. Take a skewer and insert into one end of the straw. Gently push the chocolate out. You now have "chalk" that is not only edible but can be used to write on your chalkboard cake. It is easier to write with smaller pieces of chalk so feel free to break them up before using. "
 If you don't feel like making candy chalks, according to Huffington Post on its article 5 Things You didn't know you could eat, You can eat non-toxic chalk because it's basically pure calcium and people with calcium deficiencies have been know to eat it by the box.  You'll be fine should you decide to sample a stick…hmmmmm.
Another way to create the white edible paint is by using White Petal Dust mixed with a little Vodka.
To make your chalkboard looks old and as if they have been used over time, simply brush the surface with powder sugar !
The possibilities are endless with this technique… I think of back to school treats, Teacher's appreciation gifts, party favors that act as thank you notes.
How about you, what are you thinking to use this technique for?
Search this site
ETSY shop
Search Amazon
Click HERE
Credits
It is my intention to give 'credit' to whoever the picture belongs to, but Ooops does happen. If you find pictures that belong to you without 'noted' source, please let me know.