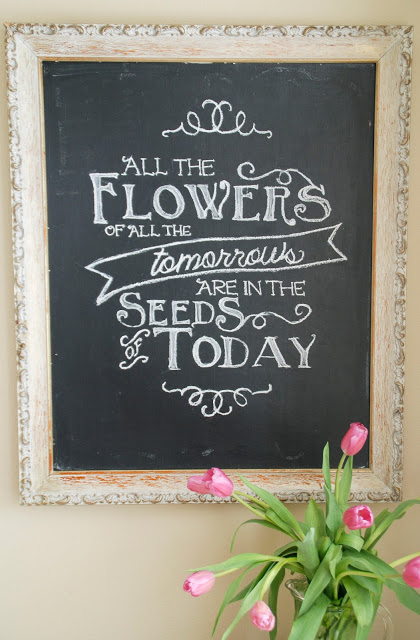 I am so in love with chalkboard wall decor. I have made my own chalkboard by spraying a piece of board and an old whiteboard with chalkboard spray paint.  Honestly, If I have to do it again, I rather buy a chalkboard with nice frames.
Anyway, to make your chalkboard art work, you need font inspirations and quotes.   If you want to design it yourself, you can download some fonts for free at Dafont.   I use Jenni  illustration below for my font inspirations.
Now type your quote in word document using your favorite chalkboard fonts.  Alternate 3 or 4 fonts depending on the length of your quote.   Now the question is how do you transfer your quote from paper to the board?  Easy, with grid pattern.  Draw grid pattern on your paper and do the same on your board.   Now fill in each box just like drawing.  My explanation might be confusing so let's go to Kristen's blog to see step by step tutorial.

Read Full Post
Now that you know how to create your own Chalkboard art, the possibilities are endless.  What do you write on your chalkboard?
Search this site
ETSY shop
Search Amazon
Click HERE
Credits
It is my intention to give 'credit' to whoever the picture belongs to, but Ooops does happen. If you find pictures that belong to you without 'noted' source, please let me know.