This week I don't bake at all, instead I cook.  I was planning to make Albondigas soup with a touch of Asian flavor.
Albondigas soup is a Mexican cuisine.  It consists of meatballs and assorted veggies.  What a perfect dish for fall weather.  The soup has similar taste to Asian soup, except the soup has no veggies and is eaten with noodle.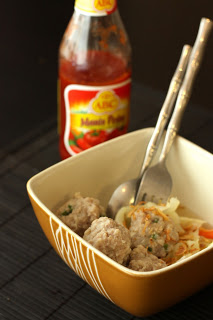 To make the meatballs, you'll need:
1 pound ground beef / pork
 1/2 tsp salt
 1/2 tsp white pepper
 1/4 tsp sugar
 1 tsp chopped garlic
 1 tsp sesame oil – optional
 green onion or cilantro – optional
1/4 of onion, chopped – optional
You can pick one or use all:
1/2 cup tapioca flour (can be substitute with corn starch) – optional
 1/4 cup of oats (can be substitute with cooked or uncooked rice) – optional
 1 egg white – optional
Mix all ingredients.  Make a ball shape.
Throw meatball in the boiling water.
Meanwhile, prepare all the veggies you want to add.  Toss veggies that require to cook longer first into the meatball water.  For example, I would put potato first, then carrot and last zucchini.
Flavor the soup with salt and pepper to your taste.
Search this site
ETSY shop
Search Amazon
Click HERE
Credits
It is my intention to give 'credit' to whoever the picture belongs to, but Ooops does happen. If you find pictures that belong to you without 'noted' source, please let me know.