So many times I followed instruction in the back of Tempura mix but failed to make the tempura to look like the one in the Japanese restaurant.
Til one day I got the 'secret' from a friend of mine who works at —— restaurant 🙂
Here's how: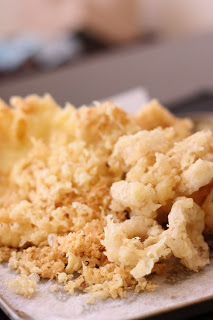 look at those crunches
Mix tempura flour with egg yolk
Add ice or cold water
Mix until batter can be poured
Sprinkle batter to hot frying oil
Stir occasionally to avoid batter from clumping together while frying
To fry vegetables or shrimps with the tempura batter, you need to:
Dip the vegetables or shrimps into the batter,

then dip it in tempura flour

Deep fry
Search this site
ETSY shop
Search Amazon
Click HERE
Credits
It is my intention to give 'credit' to whoever the picture belongs to, but Ooops does happen. If you find pictures that belong to you without 'noted' source, please let me know.